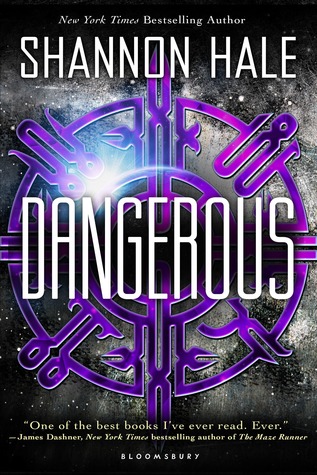 "
Maisie Danger Brown just wanted to get away from home for a bit, see something new. She never intended to fall in love. And she never imagined stumbling into a frightening plot that kills her friends and just might kill her, too. A plot that is already changing life on Earth as we know it. There's no going back. She is the only thing standing between danger and annihilation.

From NY Times bestselling author Shannon Hale comes a novel that asks, How far would you go to save the ones you love? And how far would you go to save everyone else?"
I've read other books by Shannon Hale before although they're always about lost princesses or fantasy lands - not science fiction. I am glad, though, that she decided to expand her horizons and try out another genre.
The main issue I had with this book is that it went too fast. Smart kids to outer space to betrayals to aliens to more betrayals to alien invasion to safety. I feel like it might have been better suited to a duology because it didn't feel real to me. I was reading the story and that's all.
I really did like the characters although they could have benefited from more character development. I really liked how Ms. Hale killed off characters in a useful and mysterious way. For example when one of the team was drowned, Maisie starts to have some doubts.
That's what I liked most about it: the mystery. You don't know whose side anyone is on. And in the end, you're still not entirely sure. All you know is that it's all good.
That brings me to my next point - the ending. In spite of the book not being developed enough, I really liked the ending scenes. It wrapped everything up nicely and left me feeling satisfied.
A different sort of alien book that was nice to read but could use a bit more length to develop the characters and premise/background.
"Why did everyone else seem fine but I felt as if I were living in a cage I'd outgrown two shoe sizes ago?"
"Humming the Star Wars theme to encourage myself, I wobbled onto my feet. Sometimes a girl's gotta provide her own trumpet-heavy heroic soundtrack."
"You'd better not talk about microscopes anymore," he whispered, "or I don't know if I can control myself."
"And this is where I'll end, before I know what happens next."
"We were quiet, two tiny specks glued down by gravity, peering at a universe that didn't notice us back."