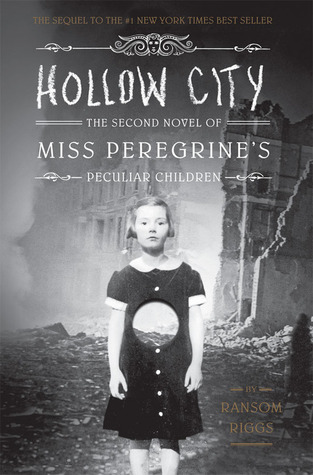 Miss Peregrine's Peculiar Children #2
"Miss Peregrine's Home for Peculiar Children was the surprise best seller of 2011—an unprecedented mix of YA fantasy and vintage photography that enthralled readers and critics alike. Publishers Weekly called it "an enjoyable, eccentric read, distinguished by well-developed characters, a believable Welsh setting, and some very creepy monsters."

This second novel begins in 1940, immediately after the first book ended. Having escaped Miss Peregrine's island by the skin of their teeth, Jacob and his new friends must journey to London, the peculiar capital of the world. Along the way, they encounter new allies, a menagerie of peculiar animals, and other unexpected surprises.

Complete with dozens of newly discovered (and thoroughly mesmerizing) vintage photographs, this new adventure will delight readers of all ages."
Review:
I'm going to go a little backwards here and start at the ending because let's be honest here. THE ENDING. I loved the deception and how things escalated from there. It was seriously an emotional rollercoaster!
I also really liked being able to see Jacob develop his peculiar powers and figure them out. It's a real asset to their little team of peculiars and I really loved seeing that.
To that end, I also loved the expansion of knowledge we get about the world of peculiars. The Map of Days is such a cool aspect. Going along with that, I loved exploring the world outside of Miss Peregrine's loop and the rest of the world of loops. It was also cool to see them jumping around in time. I also loved learning about different peculiar powers in the world outside of Miss Peregrine's loop. They're all so different and work in different ways.
I also did like the conflict about when Jacob would leave the peculiars. It brought in the discussion of what is enough to make you leave one life behind and join another. It was interesting to see, especially at the end, what would make Jacob really want to stay, judging on what he's experienced of the world so far and also what became of his grandpa.
One thing that bothered me: sometimes it felt like the story was being written around certain pictures that the author wanted to include and not the other way around. That's fine but sometimes it ended up with strange little interludes that I was kind of confused about.
The Final Verdict:
In general, I really love the use of the word 'peculiar' and the significance it carries in this book. The characters are spot-on and the conflicts and plot points are very intriguing. I also loved learning about the world outside of the loop. However, sometimes it felt like the pictures were structuring the story and not the other way around.
4 stars
Quotes:
"Do you ever find yourself climbing into an open grave during a bombing raid and wish you'd just stayed in bed?"
"The real purpose of money is to manipulate others and make them feel lesser than you."
"What I believe is that when it comes to big things in life, there are no accidents. Everything happens for a reason. You are here for a reason -- and it's not to fail and die."
"Some truths are expressed best in the form of myth."
"Just because they knew it was lost didn't mean they knew how to let it go."
"Laughing doesn't make bad things worse any more than crying makes them better."
"Strange, I thought, how you can be living your dreams and your nightmares at the very same time."
"I liked this idea: that peculiarness wasn't a deficiency, but an abundance; that it wasn't we who lacked something normals had, but they who lacked peculiarness. That we were more, not less."