50/50 Friday is a meme hosted by
Carrie @The Butterfly Reads
and I and focuses on the opposite sides of books (best/worst, differing opinions, etc). Every week will have a new topic and several advance topics will be listed in the tab labeled 50/50 Friday!
I've figured out the coding issues! Cue the momentous applause! I do now have to contend with 15 extra hours added onto my already full work schedule, though, so I'll be a little late for the next week or two before everything gets back to normal. I'm trying to be a little more proactive about scheduling posts and paying attention to review deadlines.
Today's Topic: Best/Worst Book Read in May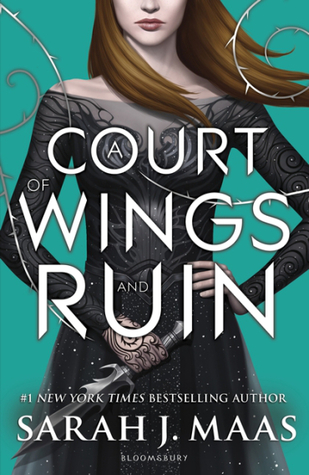 A Court of Thorns and Roses #3
Goodreads Blurb:
"A nightmare, I'd told Tamlin. I was the nightmare.

Feyre has returned to the Spring Court, determined to gather information on Tamlin's maneuverings and the invading king threatening to bring Prythian to its knees. But to do so she must play a deadly game of deceit—and one slip may spell doom not only for Feyre, but for her world as well. As war bears down upon them all, Feyre must decide who to trust amongst the dazzling and lethal High Lords—and hunt for allies in unexpected places."
I rated this book 4.5 stars which puts it at the top of the mountain for May! I was so excited for this to come out and I had preordered it and everything which I
never
do. I read it right away when it came and I have to say, I wasn't disappointed. There were some moments that could have been made better but overall, it was such a fabulous end to the POV of The Court of Dreams. See my review
HERE
.
Worst:
I actually rated two books 2 stars this month which is kind of unusual to me. I don't know, I have been feeling kind of apathetic lately and I'm doubling down on my efforts to be more realistic in my ratings (I was previously basically only rating books 3-5 stars which tends to disregard the whole 1-5 star system).
The Red Era #1
Goodreads Blurb:
"Athens was once the cradle of civilization. Now it's slowly but surely becoming the tomb of humanity.

The Red Plague, a violent virus which had run rampant decades ago, left its imprint on the planet and the flesh of men. All that remains of the modern world is an endless wasteland of ruins—Erebos—and two cities—Elysion, the obscure island of the Non-Infecteds about which no one knows a thing, and, Tartaros, the crumbling town of the Infecteds where despair, hatred, violence and poverty are the operative words.

And at the heart of this universe lives Irisya, a sixteen-year-old Non-Infected girl, staying recluse in her home to be safe and relying on her brother, Memphis, for everything.

But then, one day, he disappears without a trace.

Irisya has no choice. To save him, to survive, she will have to brave all the dangers of the outside world."
I just couldn't bring myself to become invested in this. It had such a cool concept and I loved the plot, however there was a lack of development in the world, in the characters, in the background, etc etc. There was so much potential! I'm definitely going to be checking out this author's other work, though. See my review
HERE
.
Standalone to date
Goodreads Blurb:
"The United States is under siege!
A devastating new bacterial disease sweeps across the states on the west coast and saps its victims of their own free will. Four strangers must work together to survive a mad dash across the United States to find safety in the nation's capital. The outbreak chases them from their homes on the west coast, and they struggle to reach the capital before the disease does. When they arrive, danger rears its ugly head again, and the four must race against time to save not only themselves, but the entire country from destruction. The Departed is a story filled with the unlikeliest of heroes, who must find hope even when things look hopeless."
Much like Poisoned Iris, The Departed suffered from a lack of development. There was so much potential here as well but the author just didn't allow enough space to fully develop both the plot and the characters so he chose the plot over the characters which can work, but in this case it didn't so much for me. You can read my review
HERE
.
Have you read any of these books? What did you think of them? What were your best and worst reads of May? Make a post and link up down below!
Next Week's Topic: Best/Worst Place to Read