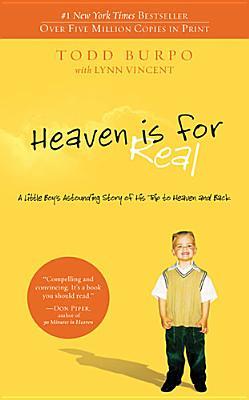 "

"A beautifully written glimpse into heaven that will encourage those who doubt and thrill those who believe."
--Ron Hall, coauthor of "Same Kind of Different as Me"
"Do you remember the hospital, Colton?" Sonja said. "Yes, mommy, I remember," he said. "That's where the angels sang to me."
When Colton Burpo made it through an emergency appendectomy, his family was overjoyed at his miraculous survival. What they weren't expecting, though, was the story that emerged in the months that followed--a story as beautiful as it was extraordinary, detailing their little boy's trip to heaven and back.
Colton, not yet four years old, told his parents he left his body during the surgery-and authenticated that claim by describing exactly what his parents were doing in another part of the hospital while he was being operated on. He talked of visiting heaven and relayed stories told to him by people he met there whom he had never met in life, sharing events that happened even before he was born. He also astonished his parents with descriptions and obscure details about heaven that matched the Bible exactly, though he had not yet learned to read.
With disarming innocence and the plainspoken boldness of a child, Colton tells of meeting long-departed family members. He describes Jesus, the angels, how "really, really big" God is, and how much God loves us. Retold by his father, but using Colton's uniquely simple words, "Heaven Is for Real" offers a glimpse of the world that awaits us, where as Colton says, "Nobody is old and nobody wears glasses."
"Heaven Is for Real" will forever change the way you think of eternity, offering the chance to see, and believe, like a child."
Discussion:
I've chosen not to rate this book mostly because these people are not authors, they are just telling the story of what happened to them. I know that's what every book does but this one just feels different.
Adding to that, this is a religious book about heaven. I feel I would be expressing a bias because of what I believe if I truly reviewed this book. So I've decided a discussion post would be better suited to it.
It really was a good book and I just flew through it. It is very convincing in a child-like way. Everything that is asserted within this book is said in a way that you know it's the truth, at least for this family.
Religious books in general most of the time aren't my thing. But if there's something you can take away from it other than "be religious or you're going to hell" then I'm all in.
I guess what I'm trying to say is that it was good and I enjoyed it, religious or not. If you believe in heaven, this is a great book to strengthen your faith. If you don't but still have an open mind, go for it and experience what other people have.
It's a very short book but it's incredibly easy to read. There are no fancy literary tricks or metaphors. It almost reads like a journal in a way which really brings home the fact that this happened to just regular people. When I read the last page and put the book down, I couldn't stop smiling because it just made me feel so happy. I'm not exactly sure why but if I ever need a pick-me-up book, I think I'll pick up this one.
I also watched the movie and I have to say I liked the book much better. It showed everything in a more gradual light and not as harsh. Don't get me wrong, the movie was good but it was so dramatized with arguing and shunning and all of that that I really doubt actually happened. The movie just didn't give me as good a feeling as the book did.
Have you read this book? What did you think? Have you seen the movie?
Quotes:
"You might as well tell God what you think. He already knows it anyway."
"What is childlike humility? It's not the lack of intelligence, but the lack of guile. The lack of an agenda. It's that precious, fleeting time before we have accumulated enough pride or position to care what other people might think. The same un-self-conscious honesty that enables a three-year-old to splash joyfully in a rain puddle, or tumble laughing in the grass with a puppy, or point out loudly that you have a booger hanging out of your nose, is what is required to enter heaven. It is the opposite of ignorance—it is intellectual honesty: to be willing to accept reality and to call things what they are even when it is hard."
"Sometimes laughter is the only way to process tough times"
"How do you scare some sense into a child who doesn't fear death?"
"'Colton, what do you want people to know from your story?'
Without hesitation, he looked her in the eye and said, 'I want them to know that heaven is for real.'"