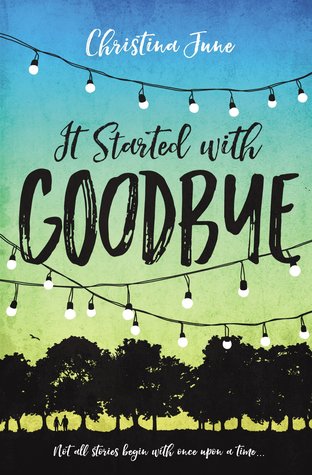 Release Date: May 9th, 2017
Standalone to date
"Sixteen-year-old Tatum Elsea is bracing for the worst summer of her life. After being falsely accused of a crime, she's stuck under stepmother-imposed house arrest and her BFF's gone ghost. Tatum fills her newfound free time with community service by day and working at her covert graphic design business at night (which includes trading emails with a cute cello-playing client). When Tatum discovers she's not the only one in the house keeping secrets, she finds she has the chance to make amends with her family and friends. Equipped with a new perspective, and assisted by her feisty step-abuela-slash-fairy-godmother, Tatum is ready to start fresh and maybe even get her happy ending along the way."
Thank you to Blink Publishers for gifting me with a copy of It Started With Goodbye in exchange for an honest review!
This book honestly made my heart melt. I had been feeling kind of meh when I decided to pick it up and by the end of the book, I felt like the Grinch after his heart expands. It's that adorable.
1. The characters.
The author does
such a good job developing the characters
and exploring their different quirks. I loved how Tate is a graphic designer at heart and she really goes after what she wants. Tate, Tilly (her stepsister), Abby (a new friend), SK (a client), and Ashlyn (the best friend) are all wonderfully fleshed out and real feeling. Their
conversations with each other are equally hilarious and serious
which made for the perfect mix to avoid most of the fluff that comes with the territory in contemporaries. I do
wish more development had been given to the stepmother and the father.
Personally, I found the stepmother's actions to be quite shocking and I wish there would have been a little more to display her side of the story. Perhaps it's just because I was raised in a somewhat laze-faire household but tracking your child by their GPS? A little much.
2. The plot.
This was also
well done
. I finished this in two sittings and found myself engrossed from the first page. While the outcome and the identity of SK is somewhat obvious from the outset, I truly enjoyed the journey. The pace is just right and keeps you interested. It was
nothing overly ambitious for a contemporary
but it accomplished what it set out to do.
3. The romance.
The author
kept the romance to a subplot which I appreciated
so, so much. Romance is perceived as a necessity in contemporaries but the actuality is that they simply aren't entirely necessary. The author included two romances which occurred very naturally which kept them to a very realistic subplot. I loved the banter between the characters and the sweetness of their relationship. The
last chapter seriously made my heart resemble a pile of jello.
4. The crime.
The crime that Tate is supposedly involved in is the main catalyst for this story. While it served it's purpose admirably and brought some wonderful themes to the table, I
couldn't help but be extremely annoyed at how the parents handled the situation.
Again, perhaps this is my upbringing showing, but if your child hasn't done anything wrong in their life and are simply in the wrong place at the wrong time, extreme punishment is not the answer. It'll only force the child to resent the parents more and drive a wedge that may not be able to be removed. I understand that parents freak out a bit when they see their child in a police station, but it could have been handled so much better. This
prevented me from sympathizing with the parents at all
, especially at the end.
They do try to correct things but it came too little too late for me.
However, it did bring to light what strong character Tate has and how she embraces responsibility.
Quite a lovely contemporary with a true plot line of discovery and sweet romance subplots.
4 stars