50/50 Friday is a meme hosted by
Carrie @The Butterfly Reads
and I and focuses on the opposite sides of books (best/worst, differing opinions, etc). Every week will have a new topic and several advance topics will be listed in the tab labeled 50/50 Friday!
Goodness. For all my fellow Blogger users, do you ever have those times where the formatting simply REFUSES to work?? That has been me for the past 3 days. You may have been wondering where this post has been hiding and it's all the HTML's fault! I would fix the code and then when I would preview it, it would revert back to whatever hinky formatting it had before. Links refused to be links, blue text felt like being red, the world ceased to make any kind of sense! I had posts scheduled before hand (all my reviews), thank goodness, but not this post and look where that got me. In any case, I've given up and there are no links in this post because why not. I'll put them in later when the world isn't so against me.
Today's Topic: Character Whose Life You'd Want/Not Want to Live
The Violet Eden Chapters #1
Goodreads Blurb:
"It starts with a whisper.

It's time for you to know who you are..."

Stange dreams leave her with very real injuries and there's a dark tattoo weaving its way up her arms. The guy she thought she could fall in love with just told her he's only half-human - oh, and same goes for her. And she keeps hearing a distant fluttering of wings.

Violet Eden is having a very bad 17th bithday.

But if angels seek vengeance and humans are warriors, you could do a lot worse than betting on Violet Eden."


I would actually love to be Violet! She has this cool new side of her that she never knew about and while it does involve her in a pretty dangerous war, her powers are awesome and she gets a badass trainer which is always great.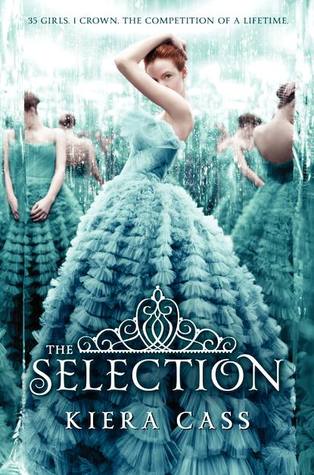 The Selection #1
Goodreads Blurb:
"For thirty-five girls, the Selection is the chance of a lifetime. The opportunity to escape the life laid out for them since birth. To be swept up in a world of glittering gowns and priceless jewels. To live in a palace and compete for the heart of gorgeous Prince Maxon.

But for America Singer, being Selected is a nightmare. It means turning her back on her secret love with Aspen, who is a caste below her. Leaving her home to enter a fierce competition for a crown she doesn't want. Living in a palace that is constantly threatened by violent rebel attacks.

Then America meets Prince Maxon. Gradually, she starts to question all the plans she's made for herself—and realizes that the life she's always dreamed of may not compare to a future she never imagined."
Even though it seems rather glamorous to be royalty, I don't think I would ever want to be in America's shoes. First she has to decide if she and Maxon are a match, then figure out if she's more in love with him or Aspen, then figure out how on earth to be a ruler under a mounting rebellion. All with every move being scrutinized by basically everyone. No thank you!
Have you read these books? Would you like to have these character's lives? Whose life do you wish you could have? Make a post and link up down below!
Next Week's Topic: Most Deep/Shallow Book in the ____ Genre (your choice) (Message/Fluff)