50/50 Friday is a meme hosted by
Carrie @The Butterfly Reads
and I and focuses on the opposite sides of books (best/worst, differing opinions, etc). Every week will have a new topic and several advance topics will be listed in the tab labeled 50/50 Friday!
Today's Topic: Best/Worst Villain An Author Has Created
This was so hard to choose because for most authors, I love a lot of what they write. So I decided to just pick one of my most read authors and put my favorite villain and least favorite villain.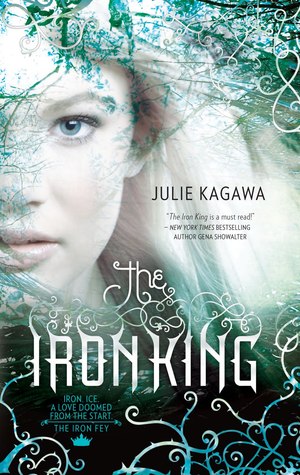 Goodreads Blurb:
"Meghan Chase has a secret destiny; one she could never have imagined.

Something has always felt slightly off in Meghan's life, ever since her father disappeared before her eyes when she was six. She has never quite fit in at school or at home.

When a dark stranger begins watching her from afar, and her prankster best friend becomes strangely protective of her, Meghan senses that everything she's known is about to change.

But she could never have guessed the truth - that she is the daughter of a mythical faery king and is a pawn in a deadly war. Now Meghan will learn just how far she'll go to save someone she cares about, to stop a mysterious evil, no faery creature dare face; and to find love with a young prince who might rather see her dead than let her touch his icy heart."
The Villainy Abounds:
This whole series is focused on the Iron Fey and how they are destroying the Nevernever. However, how the series ends up is really cool. I loved how Julie Kagawa put feelings and a face to the villain and gave them humanity (if you've read the last books, you know what I mean!).
Goodreads Blurb:
"Long ago, dragons were hunted to near extinction by the Order of St. George, a legendary society of dragon slayers. Hiding in human form and growing their numbers in secret, the dragons of Talon have become strong and cunning, and they're positioned to take over the world with humans none the wiser.

Ember and Dante Hill are the only sister and brother known to dragonkind. Trained to infiltrate society, Ember wants to live the teen experience and enjoy a summer of freedom before taking her destined place in Talon. But destiny is a matter of perspective, and a rogue dragon will soon challenge everything Ember has been taught. As Ember struggles to accept her future, she and her brother are hunted by the Order of St. George.

Soldier Garret Xavier Sebastian has a mission to seek and destroy all dragons, and Talon's newest recruits in particular. But he cannot kill unless he is certain he has found his prey: and nothing is certain about Ember Hill. Faced with Ember's bravery, confidence and all-too-human desires, Garret begins to question everything that the Order has ingrained in him: and what he might be willing to give up to find the truth about dragons."
Meh Villain:
I really wanted to like this book (who doesn't love dragons??) but I just couldn't find anything unique with the villain's and the whole 'war' that was going on. Yes, they're integrated into modern society, but it just felt kind of meh to me. I've been enjoying the series overall, it's just been lackluster in terms of the evil-ness of the villains. It is cool how Julie makes sure that the reader can always see the humanity in her villains, though!
What's your opinion? Have you read either of these? What did you think of their villains? Are there any books with awesome villains that you've read? Make a post and link it below!
Next week's topic is: character most/least likely to curl up on a couch and read a book