50/50 Friday is a meme hosted by
Carrie @The Butterfly Reads
and I and focuses on the opposite sides of books (best/worst, differing opinions, etc). Every week will have a new topic and several advance topics will be listed in the tab labeled 50/50 Friday!
Today's Topic: Character Most/Least Likely to Curl Up on a Couch and Read a Book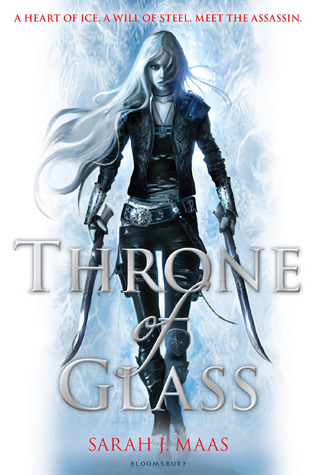 Throne of Glass by Sarah J. Maas
Goodreads Blurb:
"Meet Celaena Sardothien.
Beautiful. Deadly.
Destined for greatness.

In the dark, filthy salt mines of Endovier, an eighteen-year-old girl is serving a life sentence. She is a trained assassin, the best of her kind, but she made a fatal mistake. She got caught.

Young Captain Westfall offers her a deal: her freedom in return for one huge sacrifice. Celaena must represent the prince in a to-the-death tournament—fighting the most gifted thieves and assassins in the land. Live or die, Celaena will be free. Win or lose, she is about to discover her true destiny. But will her assassin's heart be melted?
The Reading Prowess:
Celaena (Aelin) is one of the most bookwormy characters I could think of (besides Kat in the Lux series and Hermione from HP!). She frequently takes breaks from training to stretch out and read into the wee hours of the morning when she should be sleeping. And when things get tough, she heads to the library for answers (just like Hermione!). Books are her sanctuary and they also provide answers for her. One of my favorite quotes from this book:
"Libraries were full of ideas–perhaps the most dangerous and powerful of all weapons."
Goodreads Blurb:
"Only a true best friend can protect you from your immortal enemies . . .

Lissa Dragomir is a Moroi princess: a mortal vampire with a rare gift for harnessing the earth's magic. She must be protected at all times from Strigoi; the fiercest vampires - the ones who never die. The powerful blend of human and vampire blood that flows through Rose Hathaway, Lissa's best friend, makes her a dhampir. Rose is dedicated to a dangerous life of protecting Lissa from the Strigoi, who are hell-bent on making Lissa one of them.

After two years of freedom, Rose and Lissa are caught and dragged back to St. Vladimir's Academy, a school for vampire royalty and their guardians-to-be, hidden in the deep forests of Montana. But inside the iron gates, life is even more fraught with danger . . . and the Strigoi are always close by.

Rose and Lissa must navigate their dangerous world, confront the temptations of forbidden love, and never once let their guard down, lest the evil undead make Lissa one of them forever . . ."
The Non-Reading Prowess:
Rose Hathaway isn't exactly the library's biggest advocate and she spends a lot more of her time training with Dimitri (if you call ogling him at every moment training :D) and loathes reading so called 'boring' books. Perhaps if she found the right book, she'd become a believer. I accept my mission!
What characters do you think would be the most or least likely to curl up and read? Agree with my picks? Make a post and link it down below!
Next Week's Topic: Best/Worst Scene In A Book