50/50 Friday is a meme hosted by
Carrie @The Butterfly Reads
and I and focuses on the opposite sides of books (best/worst, differing opinions, etc). Every week will have a new topic and several advance topics will be listed in the tab labeled 50/50 Friday!
Today's Topic: Favorite/Least Favorite Book in the Fantasy Genre
I'm going more in the direction of light fantasy to narrow it down a bit. You know, those books that are kind of mixes between fantasy, contemporary, and science fiction? Those lovely mish-mush books! I read
all
the fantasy so I had to narrow it somehow! These books are set in our real world but they have fantasy elements (and perhaps some science fiction) mixed in. They also have a generally lighter feel (that disqualified A Monster Calls for my favorite, unfortunately).
Favorite:
The Violet Eden Chapters #1
Goodreads Blurb:
"It starts with a whisper.

It's time for you to know who you are..."

Stange dreams leave her with very real injuries and there's a dark tattoo weaving its way up her arms. The guy she thought she could fall in love with just told her he's only half-human - oh, and same goes for her. And she keeps hearing a distant fluttering of wings.

Violet Eden is having a very bad 17th bithday.

But if angels seek vengeance and humans are warriors, you could do a lot worse than betting on Violet Eden."
I first read this series when I was just getting into light fantasy and I loved every minute of it! It's such a great introduction to fantasy with a bit of complexities but mostly kept with the real world rules. I've reread it several times since the first and have loved it even more since!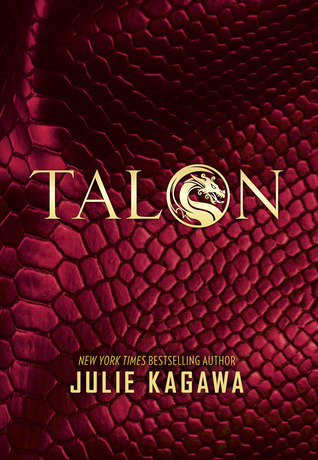 Talon #1
Goodreads Blurb:
"Long ago, dragons were hunted to near extinction by the Order of St. George, a legendary society of dragon slayers. Hiding in human form and growing their numbers in secret, the dragons of Talon have become strong and cunning, and they're positioned to take over the world with humans none the wiser.

Ember and Dante Hill are the only sister and brother known to dragonkind. Trained to infiltrate society, Ember wants to live the teen experience and enjoy a summer of freedom before taking her destined place in Talon. But destiny is a matter of perspective, and a rogue dragon will soon challenge everything Ember has been taught. As Ember struggles to accept her future, she and her brother are hunted by the Order of St. George.

Soldier Garret Xavier Sebastian has a mission to seek and destroy all dragons, and Talon's newest recruits in particular. But he cannot kill unless he is certain he has found his prey: and nothing is certain about Ember Hill. Faced with Ember's bravery, confidence and all-too-human desires, Garret begins to question everything that the Order has ingrained in him: and what he might be willing to give up to find the truth about dragons."
I've talked about this before, but I didn't really enjoy this Julie Kagawa book. I think I may have liked it if I had read it earlier on in my fantasy experience, but after getting familiar with the genre, it just seems routine to me. If you enjoy dragons in regular society, however, to might be for you!
Have you read either of these? What did you think of them? Are you a fantasy lover? What's your favorite genre and your favorite books in that genre? Make a post and link up down below!
Next Week's Topic:
World You'd Like/Not Like to Live In