50/50 Friday is a meme hosted by
Carrie @The Butterfly Reads
and I and focuses on the opposite sides of books (best/worst, differing opinions, etc). Every week will have a new topic and several advance topics will be listed in the tab labeled 50/50 Friday!
Today's Topic: World You'd Like/Not Like to Live In
While of course, I'd LOVE to live in Hogwarts, I kept that off of this post as I think everyone who has ever read HP or watched the movies wants to be a wizard/witch! Your picks don't necessarily have to be fantasy worlds (I picked a realistic fiction/mystery for the world I'd love to be in!), just someplace different than where you currently are now.
Kitty Hawk Flying Detective Agency #1
Goodreads Blurb:
"Kitty Hawk and the Curse of the Yukon Gold is the thrilling first installment in a new series of adventure mystery stories that are one part travel, one part history and five parts adventure. This first book of the Kitty Hawk Flying Detective Agency Series introduces Kitty Hawk, an intrepid teenage pilot with her own De Havilland Beaver seaplane and a nose for mystery and intrigue. A cross between Amelia Earhart, Nancy Drew and Pippi Longstocking, Kitty is a quirky young heroine with boundless curiosity and a knack for getting herself into all kinds of precarious situations.

After leaving her home in the western Canadian fishing village of Tofino to spend the summer in Alaska studying humpback whales Kitty finds herself caught up in an unforgettable adventure involving stolen gold, devious criminals, ghostly shipwrecks, and bone-chilling curses. Kitty's adventure begins with the lingering mystery of a sunken ship called the Clara Nevada and as the plot continues to unfold this spirited story will have armchair explorers and amateur detectives alike anxiously following every twist and turn as they are swept along through the history of the Klondike Gold Rush to a suspenseful final climatic chase across the rugged terrain of Canada's Yukon, the harsh land made famous in the stories and poems of such writers as Jack London, Robert Service and Pierre Berton. It is a riveting tale that brings to glorious life the landscape and history of Alaska's inside passage and Canada's Yukon, as Kitty is caught up in an epic mystery set against the backdrop of the scenery of the Klondike Gold Rush.

Kitty Hawk and the Curse of the Yukon Gold is a perfect book to fire the imagination of readers of all ages. Filled with fascinating and highly Google-able locations and history this book will inspire anyone to learn and experience more for themselves as Kitty prepares for her next adventure - flying around the world!"
This book is all about this teenage girl who has her pilot license and she goes flying around the world! I would love to fly along with her and see all of those places! Wouldn't it be so cool to just be able to hop around from place to place in a plane and when you're ready to leave someplace, you can just jump in the plane and be off? I've also secretly always wanted to get a pilot license and be able to fly my own plane someday!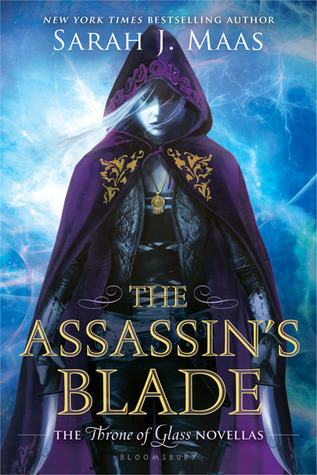 Throne of Glass #0.1-0.5 (prequel novella collection)
Goodreads Blurb:
"Contains all five novellas.

Celaena Sardothien is Adarlan's most feared assassin. As part of the Assassin's Guild, her allegiance is to her master, Arobynn Hamel, yet Celaena listens to no one and trusts only her fellow killer-for-hire, Sam. In these action-packed novellas - together in one edition for the first time - Celaena embarks on five daring missions. They take her from remote islands to hostile deserts, where she fights to liberate slaves and seeks to avenge the tyrannous. But she is acting against Arobynn's orders and could suffer an unimaginable punishment for such treachery. Will Celaena ever be truly free? Explore the dark underworld of this kick-ass heroine to find out."
While I love reading all about Celaena's adventures, I don't think I could ever love living in her world. In a previous post, I talked about how I could never be a YA protagonist (see that post
HERE
) and this world is where such people live. There is danger all the time and poverty and such everywhere. While it'd be awesome to be well-versed in knife-throwing and sword fighting and the like, I also don't think I could ever be happy living there. It would be cool though!
Have you read either of these books? What did you think of them? Would you want to live in these worlds? What worlds would you love to live in? Make a post and link up down below!
Next Week's Topic:
Best/Worst Book Read in April