50/50 Friday is a meme hosted by
Carrie @The Butterfly Reads
and I and focuses on the opposite sides of books (best/worst, differing opinions, etc). Every week will have a new topic and several advance topics will be listed in the tab labeled 50/50 Friday!
Today's Topic: Character Most/Least Likely to be a World Traveler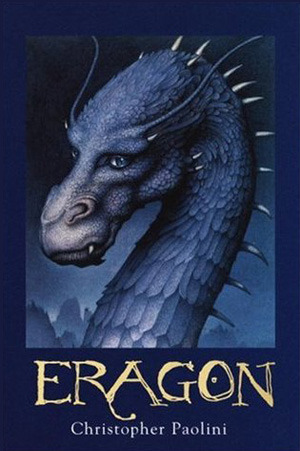 Goodreads Blurb:
"One boy. One dragon. A world of adventure.
When Eragon finds a polished blue stone in the forest, he thinks it is the lucky discovery of a poor farm boy; perhaps it will buy his family meat for the winter. But when the stone brings a dragon hatchling, Eragon realizes he has stumbled upon a legacy nearly as old as the Empire itself.

Overnight his simple life is shattered, and he is thrust into a perilous new world of destiny, magic, and power. With only an ancient sword and the advice of an old storyteller for guidance, Eragon and the fledgling dragon must navigate the dangerous terrain and dark enemies of an Empire ruled by a king whose evil knows no bounds.

Can Eragon take up the mantle of the legendary Dragon Riders? The fate of the Empire may rest in his hands."
Eragon traveled around a lot with his dragon when he was on his quest fighting the forces of evil. While he does miss his old town, I have a feeling that in old age, Eragon wouldn't want to stay in one place for too long and he'd still want to see the world (or, at least, what he hadn't already seen).
Goodreads Blurb:
"Winning will make you famous.
Losing means certain death.

The nation of Panem, formed from a post-apocalyptic North America, is a country that consists of a wealthy Capitol region surrounded by 12 poorer districts. Early in its history, a rebellion led by a 13th district against the Capitol resulted in its destruction and the creation of an annual televised event known as the Hunger Games. In punishment, and as a reminder of the power and grace of the Capitol, each district must yield one boy and one girl between the ages of 12 and 18 through a lottery system to participate in the games. The 'tributes' are chosen during the annual Reaping and are forced to fight to the death, leaving only one survivor to claim victory.

When 16-year-old Katniss's young sister, Prim, is selected as District 12's female representative, Katniss volunteers to take her place. She and her male counterpart Peeta, are pitted against bigger, stronger representatives, some of whom have trained for this their whole lives. , she sees it as a death sentence. But Katniss has been close to death before. For her, survival is second nature."
Like Eragon, Katniss traveled a lot during her quest but she, unlike Eragon, didn't savor the journey and always wished to be home with her loved ones. After Mockingjay, I think she would definitely want to simply rebuild her life and cultivate her own garden, so to speak.
What characters do you think would be world travelers after their adventures? Do you agree with my picks? Make a post and link up down below!
Next Week's Topic:
Most/Least Intricately Built World