50/50 Friday is a meme hosted by
Carrie @The Butterfly Reads
and I and focuses on the opposite sides of books (best/worst, differing opinions, etc). Every week will have a new topic and several advance topics will be listed in the tab labeled 50/50 Friday!
Today's Topic: Most/Least Intricately Built World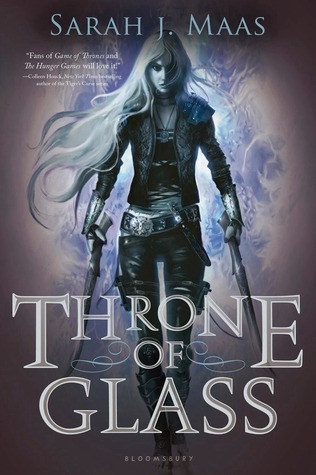 Goodreads Blurb:
"In a land without magic, where the king rules with an iron hand, an assassin is summoned to the castle. She comes not to kill the king, but to win her freedom. If she defeats twenty-three killers, thieves, and warriors in a competition, she is released from prison to serve as the king's champion. Her name is Celaena Sardothien.

The Crown Prince will provoke her. The Captain of the Guard will protect her. But something evil dwells in the castle of glass--and it's there to kill. When her competitors start dying one by one, Celaena's fight for freedom becomes a fight for survival, and a desperate quest to root out the evil before it destroys her world."
To me, this prompt really showcases fantasy books because while other genre's can have wonderfully built worlds, in my experience, it's fantasy authors that really take it to the next level by creating an entirely new world with new rules. In this series, I have to say, everything is thought out to an extensive level. It has a detailed world map in the front of each book, and the author really sticks to her guns in terms of the world rules. I think an important factor going into this is the fact that SJM has been writing this series for a while (we're now on the 5th book) so she's had lots of space to continue the world development. A close second for me when I was deciding was
The Wheel of Time series
by Robert Jordan which is like a second LOTR with a different premise (it's really good btw, you should definitely check it out!).
Goodreads Blurb:
"Many hundreds of years ago, the city of Ember was created by the Builders to contain everything needed for human survival. It worked…but now the storerooms are almost out of food, crops are blighted, corruption is spreading through the city and worst of all—the lights are failing. Soon Ember could be engulfed by darkness…

But when two children, Lina and Doon, discover fragments of an ancient parchment, they begin to wonder if there could be a way out of Ember. Can they decipher the words from long ago and find a new future for everyone? Will the people of Ember listen to them?"
I'm trying to keep the stakes about even for this one so I decided to only compare books that created their entire world and are pretty solidly set in the fantasy genre. Since most science fiction books take place in our current world, that seemed like a bit harsh because it's not like people want to read descriptions of a world they already know and live in the intricacies every day. The Book of Ember series is a science fiction book, however a lot of the first book takes place underground and in the rest of the series, they're in places in our world that have been decimated entirely so there's an entirely new world order happening. When I read this, I just felt like I didn't really have my bearings physically in the world I just got general feelings rather than precise directives. A close second was
The Selection series
by Kiera Cass. I know what you're thinking: that's also a science fiction series which takes place in a much more current US which doesn't really fit the bill of world building! However, I don't think the author put enough effort into defining the world and fleshing out the rebels and all of the elements that made it distinctly
not
the current US. She also doesn't include a map of the new land sections so you just have to guess.
What worlds do you think are intricately built? Do you agree with my picks? Make a post and link up down below!
Next Week's Topic:
Best/Worst Book Read in February