50/50 Friday is a meme hosted by
Carrie @The Butterfly Reads
and I and focuses on the opposite sides of books (best/worst, differing opinions, etc). Every week will have a new topic and several advance topics will be listed in the tab labeled 50/50 Friday!
Today's Topic: Best/Worst Book Read in February
I just couldn't choose, so I chose two books for this!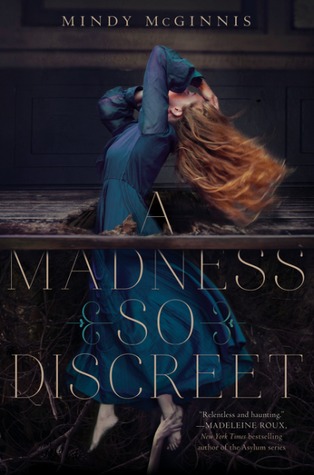 Goodreads Blurb:
"Grace Mae knows madness.

She keeps it locked away, along with her voice, trapped deep inside a brilliant mind that cannot forget horrific family secrets. Those secrets, along with the bulge in her belly, land her in a Boston insane asylum.

When her voice returns in a burst of violence, Grace is banished to the dark cellars, where her mind is discovered by a visiting doctor who dabbles in the new study of criminal psychology. With her keen eyes and sharp memory, Grace will make the perfect assistant at crime scenes. Escaping from Boston to the safety of an ethical Ohio asylum, Grace finds friendship and hope, hints of a life she should have had. But gruesome nights bring Grace and the doctor into the circle of a killer who stalks young women. Grace, continuing to operate under the cloak of madness, must hunt a murderer while she confronts the demons in her own past.

In this beautifully twisted historical thriller, Mindy McGinnis, acclaimed author of Not a Drop to Drink and In a Handful of Dust, explores the fine line between sanity and insanity, good and evil—and the madness that exists in all of us."
This is such a cool book! The theme of madness and it's origins are utterly fascinating to me and I kept thinking about it days after I finished the book. The characters were so spot on as well. And of course, you can't forget that gorgeous cover! I rated this 4 stars simply for the over-equivalence of the plot lines. See my review
HERE.
Goodreads Blurb:
"Treena is nervous for Rating Day. A single number will brand her forever—a valuable citizen, or a pathetic waste of space. Her top-Rated boyfriend is confident their scores will coincide so they can attend the academy together. But when the big day arrives, her true number shocks everyone.

To get her life and boyfriend back, she must go undercover and expose a military spy. Doesn't sound too hard, except that someone wants her dead. And then there's Vance, the mysterious soldier with a haunted past and beautiful brown eyes. Together, they discover a dark numbers conspiracy, one that shatters the nation's future. Treena must join up with Vance if she is to survive the dangerous game of numbers—and the terrible war that rages within her heart."
This is the second book I chose and I rated it 4.5 stars. This is the first book in a series. I received this book for review and I have to say, I'm so glad I read it! It's such an engrossing book and the themes really make you think about the structure of our society and if we're really all that accepting. See my review
HERE
.
Goodreads Blurb:
"Based on a Norwegian legend
A Sealed Fate
An Angel of Death
A Forbidden Love

What are you willing to sacrifice when the only person who can save you is the same one who has to kill you?

After vampires and werewolves, after wizards and fallen angels, a new breed of Angels is here to usher you into their dark world. An ancient, deadly, inescapable race.
No one can see them. They're shadows of destiny. They're knights of death. They're the Subterraneans and they're here to claim our lives.
Commanded by a mysterious congregation called the Màsala, the Angels of Death ensure that each man's destiny takes its due course on Earth.
But what happens when love intervenes?
Can an Angel of Death deny his own nature and challenge destiny?
Can love rebel against fate?

When Gemma's eyes first meet the dark, piercing gaze of Evan James, an ominous shadow creeps into her life, ultimately leading her to face her destiny. She doesn't realize Evan is one of Death's soldiers and that Death is summoning her.
Her time is up: Gemma must die . . . and Evan has been sent to kill her.
But what if she's the only one who can truly see him?

Against every rule. Against fate itself. Against everything and everyone. A story of forbidden love and star-crossed destinies.

Dark. Romantic. Dangerous.

Touched combines devastating passion and unconfessable secrets, heartrending decisions and deep emotions, giving life to a love story as intense as the feelings that unite Evan and Gemma, as inescapable as the destiny that looms over them . . ."
This is the first book in a series. I rated this book 2.5 stars for a number of reasons. One, the romance portrayed in it reminded me a lot of Twilight which is obviously not a healthy relationship. The characters got on my nerves a bit and there wasn't too much development of the world outside of the romance. It had such potential but unfortunately, it just didn't live up. I think I would have liked this 5 years ago, but not now when the YA genre has come so far. See my review
HERE
.
What books did you like or not like in February? Have you read any of the books above? Make a post and link up down below!
Next Week's Topic:
Best/Worst Queen (or King) Character (Good/Evil)