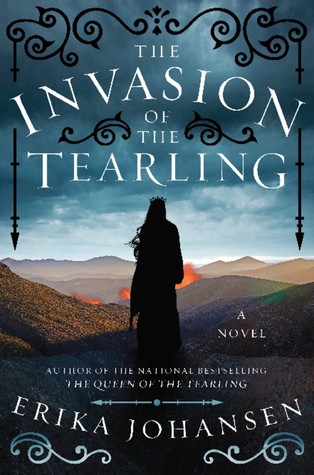 The Queen of the Tearling #2
"

With each passing day, Kelsea Glynn is growing into her new responsibilities as Queen of the Tearling. By stopping the shipments of slaves to the neighboring kingdom of Mortmesne, she crossed the Red Queen, a brutal ruler whose power derives from dark magic, who is sending her fearsome army into the Tearling to take what is hers. And nothing can stop the invasion.
But as the Mort army draws ever closer, Kelsea develops a mysterious connection to a time before the Crossing, and she finds herself relying on a strange and possibly dangerous ally: a woman named Lily, fighting for her life in a world where being female can feel like a crime. The fate of the Tearling —and that of Kelsea's own soul—may rest with Lily and her story, but Kelsea may not have enough time to find out."
This series is quickly gaining a top spot on my reread list for sure! After I finished it the first time, I immediately started it again just to see if I could glean any more information from it! The mystery behind the Red Queen as well as Kelsea's heritage kept me hooked!
Of course, the Red Queen is just the start of it! In this book, the war is creeping ever closer and Kelsea has to take some desperate measures. The way this story was told is fabulous. The author decided on multiple POV's and each one of them held something important for the story that had to be told. She wove them seamlessly together and I was never confused whose head I was in. The multiple POV's actually helped me get into the story more if that's even possible.
To that end, I loved learning more about the Pre-Crossing through Lily and what her life was like as well as trying to figure out how she is related to Kelsea. The connections that you draw in your head as you read are very well done and I just see the threads that connect everything coming together!
The first book was a bit slow but now, as I'm reading, I'm almost reminded of the Throne of Glass series by Sarah J. Maas or the Graceling series by Kristin Cashore. Just the way that the author drops all these hints and you only realize what is happening at the very end. I did love the way it ended and it has me thirsting for more!
The Final Verdict:
An expertly woven tale continuing Kelsea's story. The author did a fabulous job of creating mystery upon mystery without me feeling overwhelmed. The characters are all wonderful and the new information has the wheels in my head turning!
5 stars
Quotes:
"Pen?"
"Lady?"
"You think I'm pretty."
He blinked in surprise. "I always found you so, Lady. But it's true that your face has changed."
"You always found me pretty?"
Pen shrugged. "It doesn't matter, Lady. Some women are defined by their appearance, but you have never been one of them."
"This is a fool's errand," Mace grumbled.
"You think all of my errands are foolish, Lazarus. I'm not impressed."
"You can defend your kingdom, or you can defend your people, Majesty. You don't have the manpower to do both at once."
"People are more important than land."
"When it fails, they do call it madness, Lazarus. But when it succeeds, they call it genius."
"Pain only disables the weak."
"Corruption begins with a single moment of weakness."
"This, I think, is the crux of evil in this world, Majesty: those who feel entitled to whatever they want, whatever they can grab. Such people never ask themselves if they have the right. They consider no cost to anyone but themselves."
"Names made a thing real."